Background
Ushirika School in the Kibera Slums was the first school we built in Kenya in 2008. At the time, only 80 students attended, but with the unparalleled commitment and nurturing of its founder David Kitavi, the school has grown to over 600 students and now comprises a high school for girls in addition to the primary school. Ushirika supports girls who have slipped through the cracks of society, girls who have been raised in the worst kind of living conditions, either orphaned or raised by a single parent, and who are routinely exposed to violence and drug abuse.
This school we are building, along with the scholarship these girls receive and the mentoring and coaching from One Girl Can has given them hope for a future they can own.
What's happening now?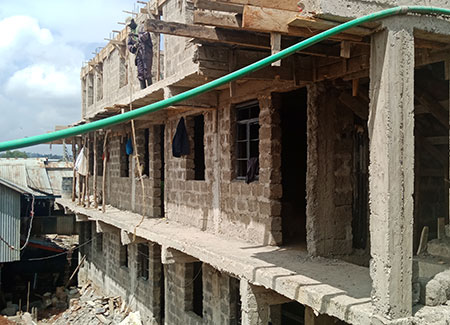 Due to the global health pandemic, we will be challenged to provide the funds to keep the construction of this school going, but we have to try. Having a school for the children to return to once this is over is our main priority.
We're already 50% towards our goal to complete this school!
Together, let's try to raise $22,000 to complete another classroom.
Your impact
Every donation, no matter how small, will help us get closer to building a classroom for 45 high school girls.
$10/month - Buy 44 cinderblocks to help build a wall*
$17/month - Buy a window
$25/month - Buy a desk and bench for 2 students**
*88 needed to complete one wall
** 23 needed at $300 each

For every $500, we can put a girl in a seat in the classroom we're building. Stay tuned as we fill the virtual desk with students.
Ushirika: Work in progress