Okanagan Wine, Dine, & Golf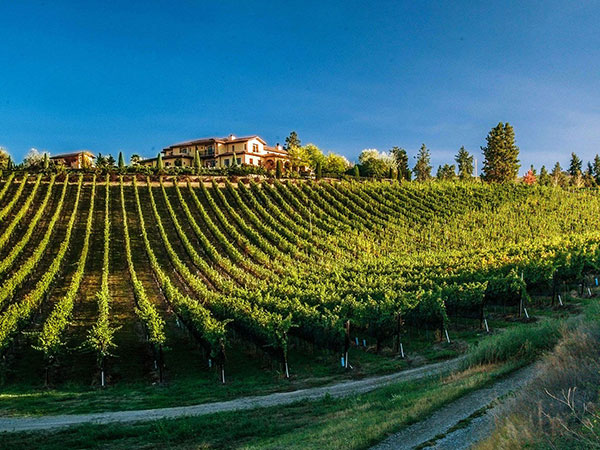 Get the best of Kelowna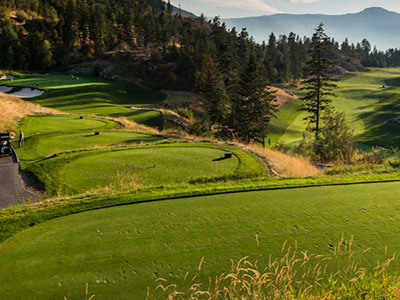 There's so much to love about Kelowna – from the vineyards, restaurants, hotels, trails, lakes, golf courses, and more. Here's your chance to get a taste of what Kelowna has to offer.
Located just outside Vernon, call Predator Ridge Resort home for one night for one of the most unparalleled resort experiences in Canada. With two award-winning golf courses in your new backyard, you'll want to take advantage of the challenging course while enjoying the breathtaking scene around you.
Looking for wine? We've got you covered with a private 6-hour wine tour by Mojo Tours, which includes lunch at the beautiful Quails Gate Winery, a private tour of the famous Mission Hill Winery, and stops at 5 different wineries along the way.
If that's not enough, get an exclusive private gourmet lunch and wine tasting at Mirabel Vineyards with the owners, Dawn and Doug Reimer. You'll be served on their sun-drenched loggia sampling some of their finest wines while taking in the authentic and spectacular Mediterranean Villa in the heart of the BC wine country. Their label has been recognized internationally for its outstanding quality and is without question one of the best wines BC produces.
Package includes:
One-night stay in a 2 bedroom suite for 4 guests at Predator Ridge Resort
One round of golf at Predator Ridge Resort for 4
One-night stay for 4 guests in a Deluxe Room at the El Dorado Resort
Private lunch and wine tasting at Mirabel Estate Winery for 4 guests
A private 6.5-hour West Kelowna wine tour with Mojo tours for 4 guests (includes a gourmet lunch and tastings at 5 wineries)
Value: $3,600
Package Excludes:
Transportation to and from Okanagan Valley.
Fine Print:
Predator Ridge: No cash value. Based on availability. Not valid on long weekends in July or August. Some time periods require multiple night stays or rounds minimums which will not be covered unless specified. Expires October 1, 2021.

El Dorado Resort: Valid September 7, 2020 to June 30, 2021 for a one-night stay for four guests at Eldorado Resort – Manteo. Valid Monday to Thursday only, subject to availability. It is not applicable on any long weekends; other black out dates may apply. Advanced reservations are required. Not redeemable for cash, must be mentioned at the time of booking and must be presented upon check-in. Some restrictions apply.

Mojo Wine Tour offer expires November 30, 2021.