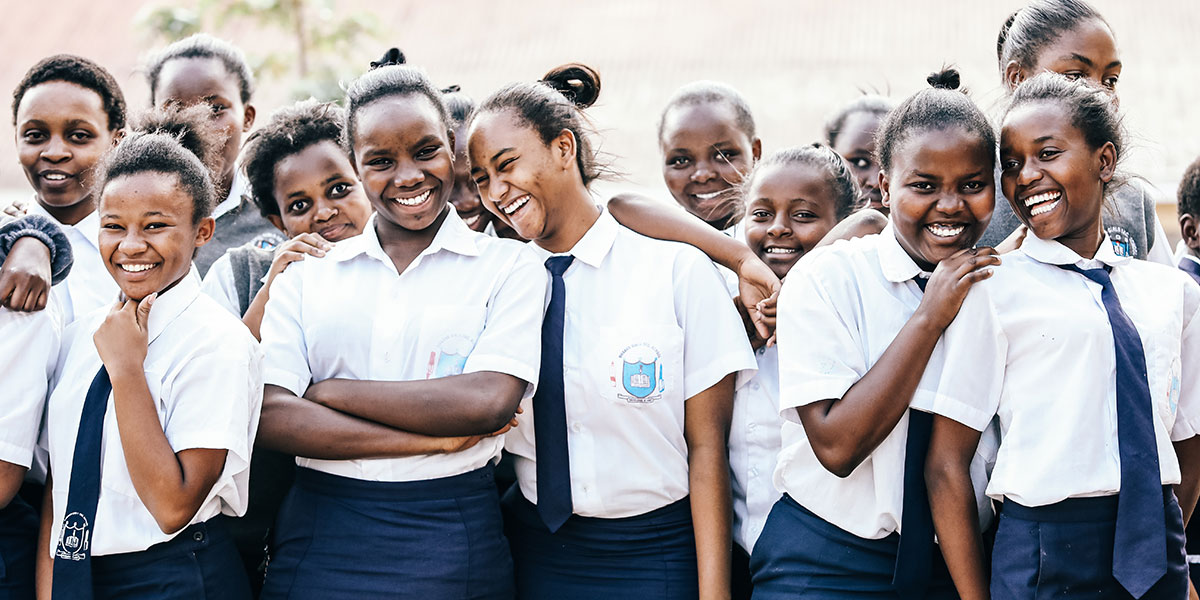 HOW IT ALL STARTED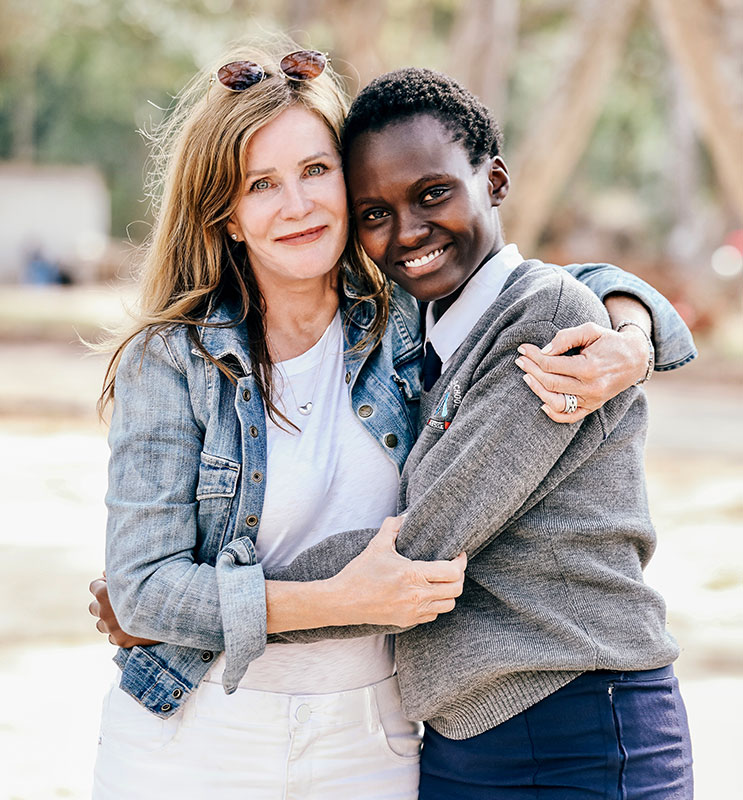 One Girl Can is a Canadian and Kenyan registered charitable organization breaking the cycle of poverty and working to achieve gender equality through education and mentorship. The organization's unique holistic model empowers a girl from the time she leaves primary school until the day she gains meaningful employment.
One Girl Can was founded in 2008 by Lotte Davis. Growing up in South Africa during the apartheid era, she became acutely aware of the legacy of mistreatment of black people.
Later when she moved to Canada, she noticed that discrimination was not restricted to skin colour. Women were also considered inferior and often deprived from achieving their potential simply because there were so few opportunities for them to earn an income.
She learned firsthand that when girls get an education, they then have the ability to build a career, become financially independent, be active decision-makers, and give back to their families and community.
The organization is built on a foundation of three pillars that interconnect organically to alleviate gender inequality: We Build. We Educate. We Mentor.
WE BUILD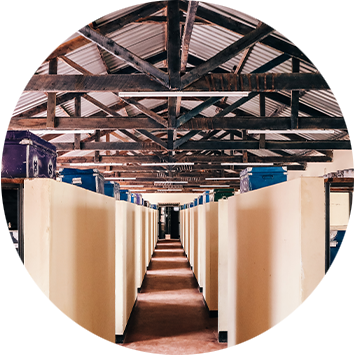 It all started with building and renovating girls' schools in some of the most marginalized regions in Kenya, where overcrowded classrooms and deteriorating facilities were prevalent at every school. After building five schools in four years, Lotte realized that a safe learning environment was fundamental to supporting girls' education, but it wouldn't be enough to impact gender inequality.
WE EDUCATE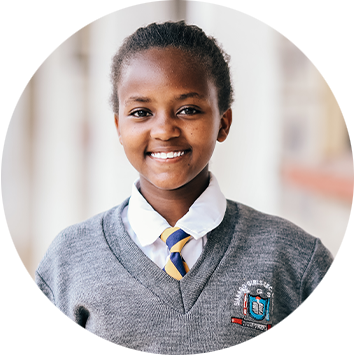 Tuition for education beyond primary school is often unaffordable or a burden for most families living in extreme poverty. To alleviate the stress, in 2013, we developed a scholarship program for the brightest, most determined girls in need of support in our partner schools. It started with 14 high school and two university scholarships, and today, 628 high school and 373 university students have benefitted from One Girl Can scholarships.
628 HIGH SCHOOL SCHOLARSHIPS
373 UNIVERSITY SCHOLARSHPS
WE MENTOR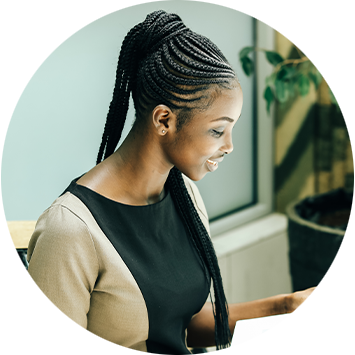 Girls need role models, mentors, and specific guidance to build their confidence, learn about goal setting, career development, and leadership if they were ever going to truly become independent and equal. In 2014, One Girl Can designed a series of 90-minute formal workshops for each grade in high school, plus a leadership conference in Nairobi for every year in university. 10,000 girls are inspired and coached in these workshops each year.
10,000 GIRLS MENTORED ANNUALLY
CYCLE OF EMPOWERMENT
Our work with the girls doesn't end with providing access to education. We are there to support her with coaching and training until she gains a meaningful career.
And it doesn't end with us – after graduation, girls in our program become mentors. This creates a ripple effect throughout society and ultimately moves us closer to ending poverty and gender inequality in the most marginalized regions.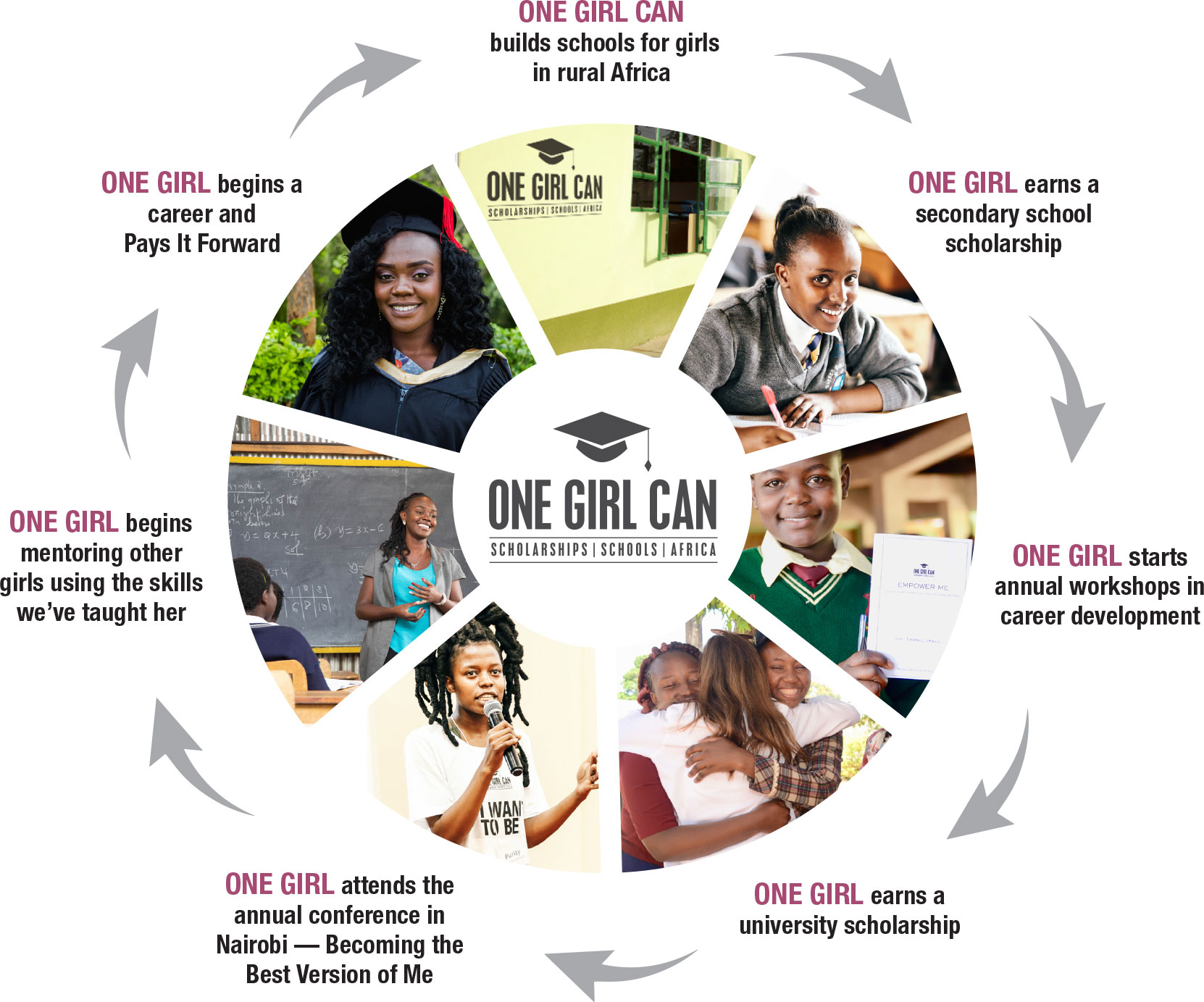 UN Sustainable Development goals
We are committed to furthering the UN Sustainable Development Goals and make a global impact.

Reports
Area of greatest need
$50Your donation can help to give one desk and bench for two students.
$100Provide school spirit with two sets of sports uniforms for 25 girls so they can stay active while at school.
$250Further the voices of tomorrow with one desktop computer for journalism club.
$10Outfit a girls sports team with two sets of uniforms.
$50Promote performance and fine arts education for girls by supporting with musical instruments for music and dance groups.
$66Can help provide a water tank adequate for drinking water for a whole school.
Sponsor a university student
$300Co-sponsor a university student
$500Buy a laptop for a first year university student
$1000Cover tuition expenses for a university student for one year
$3500Fully sponsor a girl for one year of university, including tuition, living expenses and laptop
$25Co-sponsor a university student
$42Buy a laptop for a first year university student
$84Cover tuition expenses for a university student for one year
$292Fully sponsor a girl for one year of university, including tuition, living expenses and laptop
Sponsor a high school student
$50Help fund tuition for a high school girl
$250Fund six months of high school for a girl
$500Fully sponsor a girl for one year, including tuition and board
$21Fund six months of high school for a girl
$42Fully sponsor a girl for one year, including tuition and board
$84Fully sponsor two girls for one year, including tuition and board