Journeys By Design: Luxury Sustainable Safaris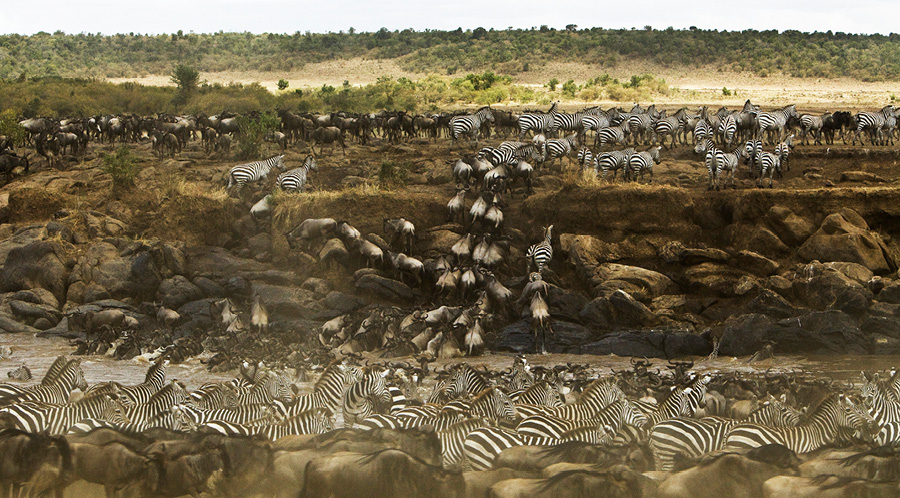 For the fifth year running, we are delighted to announce that Journeys by Design are supporting our IWANTtoBE event, donating not one but two "once-in-a-lifetime" luxury safari packages to our live auction!
Specialists in luxury African safaris, Journeys by Design was founded on the belief that for tourism to work, it must be sustainable. The company is dedicated to responsible tourism on every level, from conservation, to commerce, to community. For Journeys by Design, ethical business is a way of life, and they have worked with education, conservation and animal welfare charities for just about as long as they have been in existence. You can read more about their commitment to sustainability here.


PACKAGES IN OUR IWANTtoBE LIVE AUCTION
Journeys by Design are delighted to present two itineraries in conjunction with Angama Mara, Sasaab, and Time & Tide.

SEVEN NIGHT MASAAI MARA AND SAMBURU SAFARI FOR TWO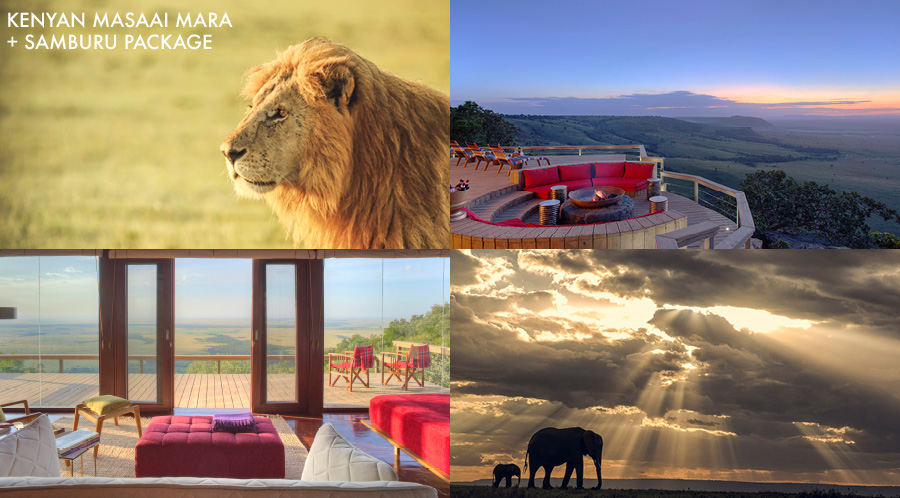 "You know you are truly alive when you're living among lions"

Karen Blixen, Out of Africa
One of Kenya's most legendary national parks, is where you will spend the first four nights, in the iconic Maasai Mara. Angama Mara sits high on the Rift Valley's Oloololo Escarpment, and commands some of the most expansive views across the Maasai Mara. Depart on dawn wildlife drives, find yourself in the heart of the action, surrounded by animals that you may only have seen on National Geographic Films. The vast grasslands dotted with acacias are home to vast herds, as well as the Big Five – lion, leopard, elephant, rhino and buffalo. Whatever your interest, Angama will tailor make your days out, with guides who not only are experts, they are story tellers. This is safari like no other, it doesn't end in your 4 x 4, there are binoculars in your tent, where you can spy elephant families in the forest, a thousand buffalo lazing about, or maybe a giraffe stepping daintily down the escarpment!
We follow this spectacle with three nights in the Northern Frontier district at Sasaab Camp in the Samburu National Reserve. The stylish Moroccan inspired design is beautiful, and sets this lodge apart, it is set in a place of rich wildlife diversity. You will find huge herds of elephant and predators such as lion and leopard and much more. Here you can explore deeper whether by traditional jeeps or by quad bikes or camel, spending time with the local communities; maybe even sleeping out under the vast African skies. Again the sweeping views across the Laikipia Plateau toward the jagged peak of Mount Kenya is breath-taking. This is a unique opportunity to make memories!
Value: CAD $26,300. Click here for terms and conditions.
THE ULTIMATE SIX NIGHT ZAMBIA EXPERIENCE FOR TWO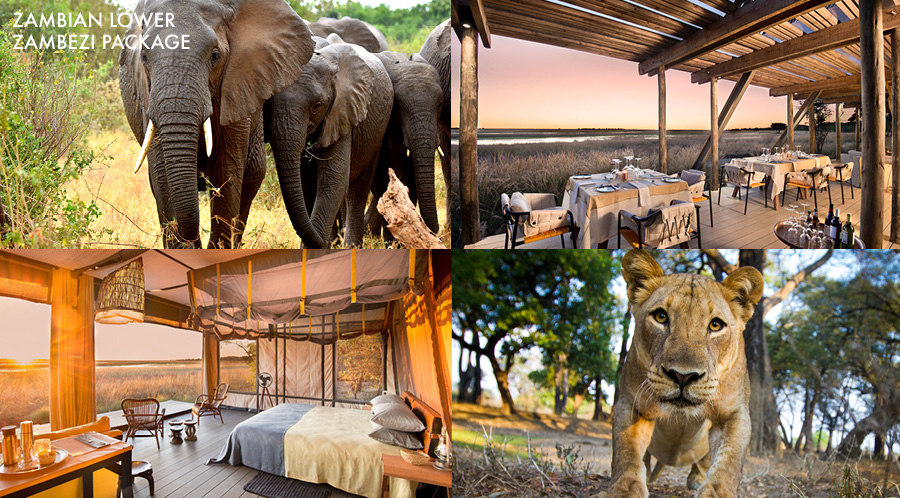 This is a rare opportunity to spend four nights in Liuwa Plain, one of the unspoilt and exclusive wildlife rich habitats of Zambia. This is a very special safari experience in an area designated as a conservation area, under the protection of African Parks, in the far west of the country. It is a magnificent stronghold of wildlife and birds, and is a mini Okavango Delta. Superb activities include day and night wildlife drives and walking in pristine wilderness areas. During December and March an excellent time for boating and canoeing. Here you will find migrating wildebeest, large clans of hyena, sometimes up to 50 and Liuwa's famous lions out in force, and many hundreds of bird species. Your guide will ensure to maximise your wildlife viewing and you just will not see another vehicle, what a luxury!




We pair Liuwa with two nights at Chongwe suites in the Lower Zambezi area. A beautiful wild setting on the Zambezi river, your room has its own plunge pool and for added luxe, your own butler. The ultimate exploration of this stunning area can be by walking, by boating or canoeing safaris. There is also great Tiger fishing and a superb wildlife hide, where you can take some unique photographs. For those that are a bit more adventurous there is a sleep out under the stars – the ultimate commune with nature!





Value: CAD $34,200. Click here for terms and conditions.


Click here to find out how you can bid on these incredible safari packages and more at our IWANTtoBE event!



JOURNEYS BY DESIGN TESTIMONIALS
"Journeys by Design opened our eyes to a world of experiences we never could have imagined. We loved the very personal attention paid by Will Jones to our specific needs and, as a result, had a very special family safari." - Ralph Lauren
"Will and Journeys By Design provided us with a rare glimpse of animals in their natural habitats, dugout canoe adventures, sundowner spectacles and the most stunning birdwatching ever! Every bit of out trip was first class, from booking, arrival, in-camp comfort and meals, wildlife viewing and departure." - Katy Perry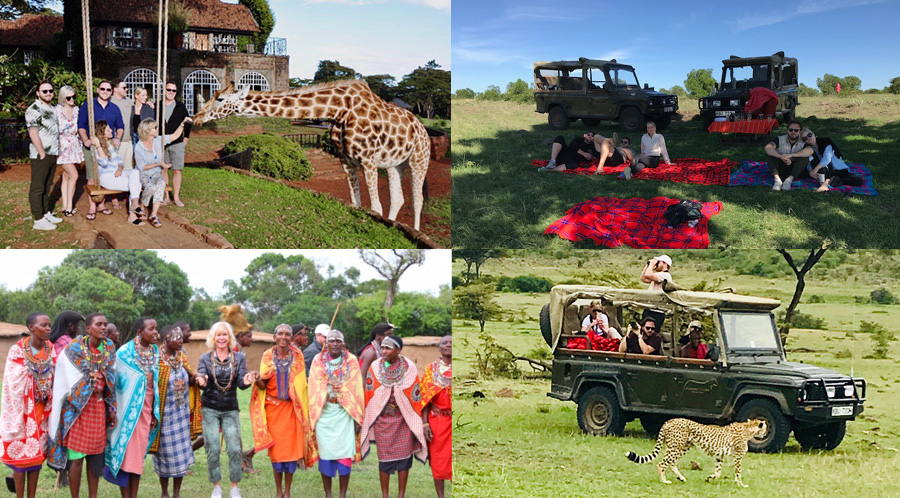 "This has been an amazing experience! Every day is a different adventure.  We have seen the big five in abundance, four leopards, tons of lions and cubs, white and black rhinos including a three month old baby, babies of every species. We did the canopy tour in Ngare Ndare yesterday. All details were exceptionally looked after by Journeys by Design. We'd love to come back again!" - Jim and Laurie Case, One Girl Can Donors.
Click here to learn more about Journeys By Design and the adventures they offer.