Global Heroes - May 2021
One Girl Can: Mackenzie Davis on The Power of Amplifying Female Voices
Education is empowerment—a fact that Vancouver-based charity One Girl Can not only knows, but proves year after year.
Mackenzie Davis, known for her roles in The Happiest Season, The Martian, Blade Runner 2049, and Terminator: Dark Fate, has experienced firsthand how access to education can alter a person's life for the better.
It's also something she's witnessed time and time again through her work with One Girl Can.
Founded in 2008 by Mackenzie's mother and co-founder of AG Hair, Lotte Davis, One Girl Can works to build schools and provide educational opportunities and mentorship to underserved girls in Kenya.
Although Mackenzie has worked with One Girl Can since its inception, seeing how access to education could change the lives of young girls in developing countries inspired her to become an ambassador for the charity. Now, Mackenzie uses her platform as an acclaimed actress to bring awareness to how One Girl Can is building a better future for girls.
We sat down with Mackenzie to talk about how her work with One Girl Can began, what's in store for the future, and the power that comes from amplifying female voices.
Click to read full interview >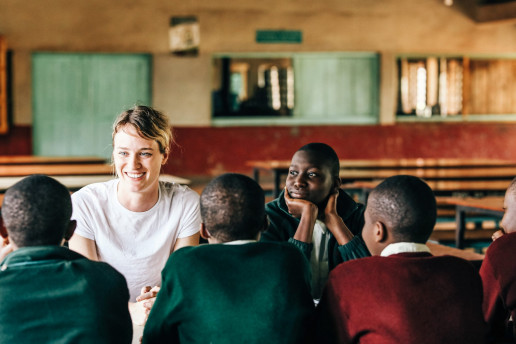 Area of greatest need
$50Your donation can help to give one desk and bench for two students.
$100Provide school spirit with two sets of sports uniforms for 25 girls so they can stay active while at school.
$250Further the voices of tomorrow with one desktop computer for journalism club.
$10Outfit a girls sports team with two sets of uniforms.
$50Promote performance and fine arts education for girls by supporting with musical instruments for music and dance groups.
$66Can help provide a water tank adequate for drinking water for a whole school.
Sponsor a university student
$300Co-sponsor a university student
$500Buy a laptop for a first year university student
$1000Cover tuition expenses for a university student for one year
$3500Fully sponsor a girl for one year of university, including tuition, living expenses and laptop
$25Co-sponsor a university student
$42Buy a laptop for a first year university student
$84Cover tuition expenses for a university student for one year
$292Fully sponsor a girl for one year of university, including tuition, living expenses and laptop
Sponsor a high school student
$50Help fund tuition for a high school girl
$250Fund six months of high school for a girl
$500Fully sponsor a girl for one year, including tuition and board
$21Fund six months of high school for a girl
$42Fully sponsor a girl for one year, including tuition and board
$84Fully sponsor two girls for one year, including tuition and board