David's story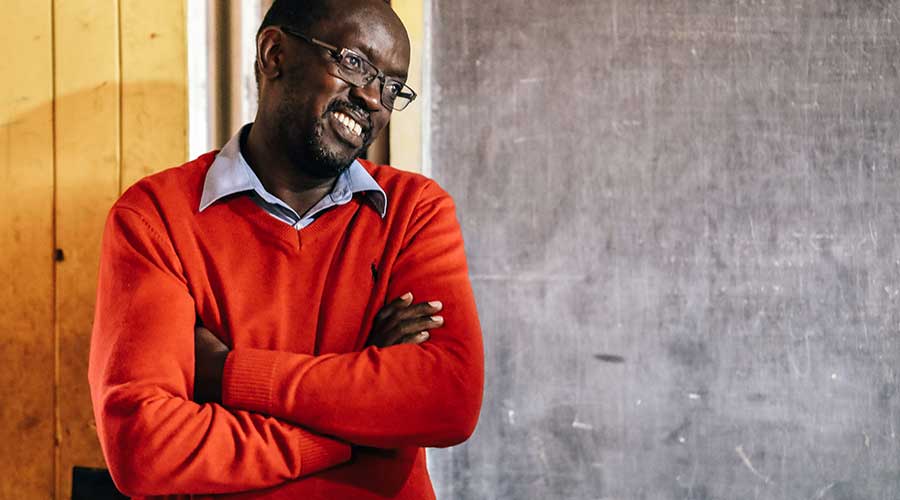 No one cares more for the girls of the Kibera Slums than David Kitavi. He was raised in the slums, but managed to get an education, leave Kibera and had work as an IT Manager for several years.
When he visited his parents, who still lived in the slums, he noticed how many young children were unsupervised and out of school. He couldn't sit back and watch so he rented a small room for 20 children where they could play, participate in some sports and get a little, basic education.
When people heard about this, naturally, the numbers grew. David hired teachers, quit his day job, and dedicated himself full-time to the new school.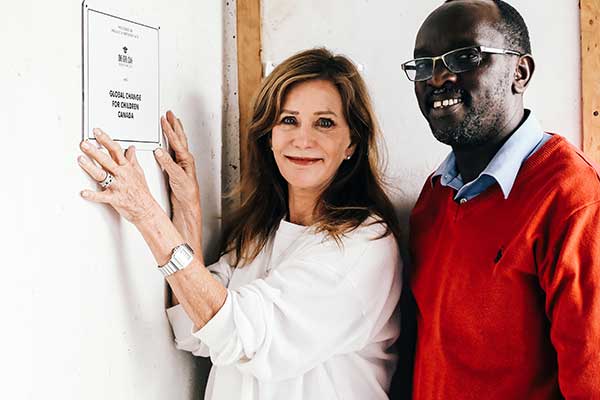 WORLDS INTERSECT
In 2008, David met One Girl Can Founder, Lotte Davis. At that time, Ushirika School had 80 children in five mud-walled rooms so One Girl Can helped to build a two-story building with six classrooms.
It didn't stop there.
Scholarships were given to promising students to attend high school at boarding schools outside the slums and then university scholarships for those who graduated with top grades.
THE FIRST GRADE NINE CLASS
David decided to start a grade nine class for girls in 2017 when he watched so many high school age girls out of school and wandering the streets by themselves.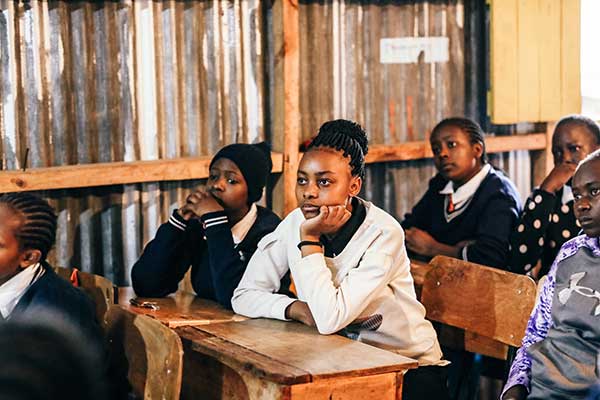 One Girl Can provided scholarships for all 35 girls to help support the operational costs to help get the program off the ground and built the first classroom.
The following year, we built a science lab and a second classroom for the girls passing into grade 10.
David now has six teachers who support these girls, as well as the workshops and mentoring provided by One Girl Can. The girls finally feel confident about their future.
ONE GIRL AT A TIME
Recently, the government in Nairobi started shutting down schools that were not up to code, leaving thousands of girls without somewhere to go to school. We're raising $366,000 to rebuild Ushirika so that girls will have somewhere to go when schools reopen.
By investing in One Girl at a time, powerful change can happen. Give these bright, bold, determined girls the means to rewrite their stories and break the cycle of poverty they have been thrust into from birth.
THE PANDEMIC
Due to the pandemic, primary and high schools have been closed since April and will not reopen until January. Construction on the school hasn't stopped and we are determined to help finish it by September.
In the meantime, the three-story cement structure will serve as a haven from the crowded living conditions in their homes and from the potential violence that food shortages and frustrations have brought about. Our high school girls will be able to get regular coaching and mentoring from their teachers and from our staff in Nairobi.
We intend to provide a meal each day for all the high school students, as well as sanitary napkins, pens and notebooks, and most importantly a hub of support and comfort where they can feel safe and hopeful about the future.
The school is 70% complete and we will continue to try to get to 100%. Make a donation today to help us finish the school or bid in our silent auction to make a contribution.