Donor Spotlight: The Jennings Family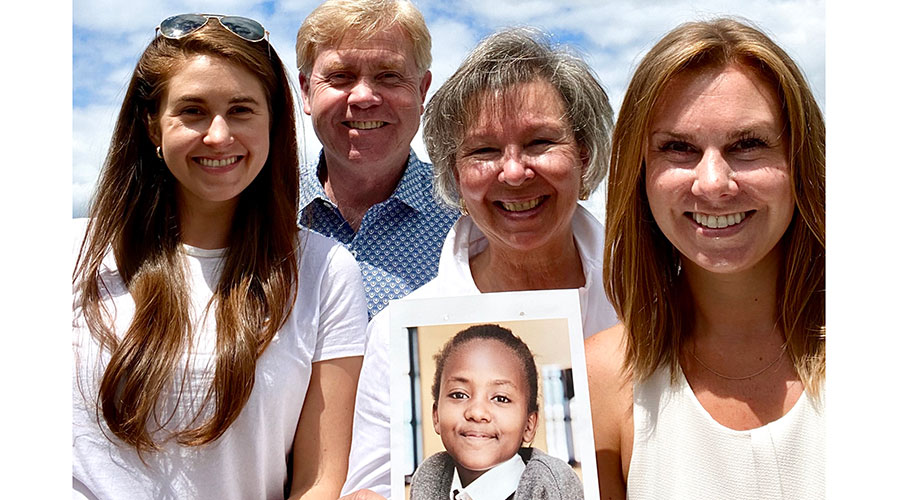 When John Jennings bought a shower and a toilet for one of our building projects at the auction at One Girl Can's first IWANTtoBE Fundraiser in 2015, he never imagined the impact the organization would have on him… and his whole family.
John and his wife, Christine have been supporting Royashley and Gloria with their education since 2017 and it has been a whole family affair–even their two daughters, Megan and Caitlin, are involved and writing letters to the girls. This year, Megan and Caitlin also committed to providing a scholarship to a girl.
Gloria has graduated high school and Royashley is about to complete her high school education and the Jennings family have committed to continue supporting her through her university education to be a doctor.
What motivated you to sponsor a girl?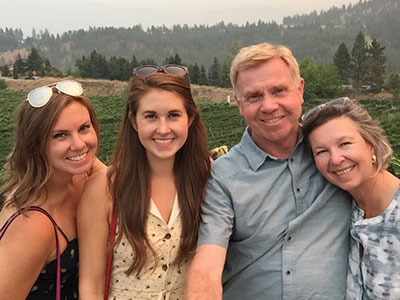 John: It was a no brainer to support Royashley and Gloria with their education as they had the skills and dedication to complete high school but needed the funding. What has been truly rewarding for me is that our whole family has been involved in writing letters to the girls and getting to know them better.
Our positive experience encouraged us to also co-sponsor Yvonne's university education in 2019.
This year, Caitlin and Megan made the decision on their own to sponsor one girl each through high school. As a father, how great is that?
Christine: We have our two daughters and were fortunate enough to be able to provide each of them with an excellent education that has served them well. Education is the key to empowering young women to direct their own future and not let personal circumstances limit or define them.
We believe that no girl should ever feel that her world is based on "no" or "not for you". Everyone deserves the opportunity to achieve, or at least try to achieve, their own personal goals.
Megan: We got involved through our parents, but now that we are established in our careers and able to sponsor our own girls, it will be exciting to see who else will be joining our extended family unit!
What message would you share with someone considering sponsoring a girl?
John: I'm a finance guy and I like to make wise investments. I can't think of an investment one could make that has a higher return than investing in a young girl's education in a place where that knowledge can enable their personal independence and improve their society as a whole.
Christine: It's so worth it! Our whole family is enthusiastic about what One Girl Can stands for and accomplishes. Having taken care of our own daughters, it's now wonderful to have the opportunity to help someone else's daughter shape her future and take charge of her life.
Caitlin: Do it. The letters we receive from Royashley and write to her have created a genuine relationship. We talk about her at the dinner table – she's part of the family.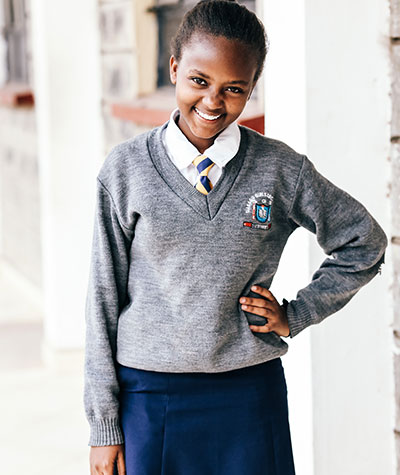 What have you learned about her through your journey with her?
John: Royashley is a force to be reckoned with.
Her first letters were polite and suggested great promise. Four years later that promise is being realized, evidenced by the confident personality that shines through in her letters.
Nothing is going to stop her success. Her ability to articulate her passion and desire for her own future and how she intends to help other girls is inspiring. She's a pistol.
I woke up on my birthday a few weeks ago to receive a video of Royashley and her mother singing "Happy Birthday" to me – that was a wonderful and thoughtful gift to receive.
Christine: She's a bright light! She's precocious and feisty, and so intelligent and funny. She's going to change the world.
Caitlin: What has impressed me about Royashley is how she has already become a mentor and guiding light to other girls in her community at such a young age. She talks about wanting to be a role model for other young women and to make them proud of her by being successful. She really understands the opportunity and the responsibility she is taking on.
Megan: What I have been impressed by is how much she actually retains. Every letter she writes has follow-up questions and comments to each of us individually from earlier letters. It's been amazing to see how engaged she is with our lives as much as we are with hers. The sore point for us is that all of her favourite classes are the ones we were terrible at, like math. I work in technology and know that her focus on STEM will serve her well in her career. I can hardly wait to see what she accomplishes.
---
WANT TO GET INVOLVED?
Get the whole family involved and help a girl get an education just like the Jennings family. Just $42/month or $1.40/day covers tuition and board for one high school girl for one year.